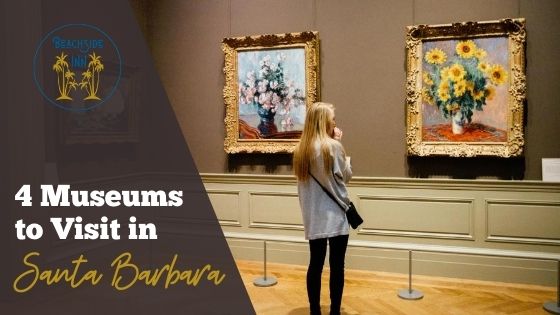 Whether you're an art buff, a history buff, or you just want to get a taste of the local culture and character of Santa Barbara, a museum tour is a must for your Santa Barbara vacation. There are a wide variety of museums to be found here, from the standard art museums to obscure and unique museums you can't find anywhere else. You'll have time to see plenty while you're here. The question is where to start. Here are some of our favorite Santa Barbara museums:
This museum itself has a long history, first founded over 100 years ago in 1916. Today, you can find over 3.5 million artifacts, whether they be skeletons, taxidermy, statues and replicas, or other educational exhibits covering all kinds of natural history. It works with the planetarium so you can get in a good star show while you visit. This is a great museum for people of all ages, with interactive exhibits that are sure to wow the kids as well as adults. There's also a Sea Center at Stearn's Wharf where you can find a 1,500 gallon tidepool tank.
You can find a number of classic Spanish Revival style homes still in Santa Barbara today, and some of the most historic ones have been made into museums. This is the case with Casa Del Herrero, the "House of the Blacksmith." Built in the 1920s, the 11-acre estate including beautiful Moorish gardens remains largely preserved today. Inside, you can find art, books, and records all from the "Golden Age of Spain," as well as furnishings true to the history of the house.
First opened in 2000, the Santa Barbara Maritime Museum is one of the more recent museums to Santa Barbara. But given our position so near the water, it only makes sense to celebrate that and educate visitors about all things maritime. This museum is located in the Waterfront Center Building, once the Naval Reserve Building, to offer exhibits both inside and out, including three historic vessels and a high-definition theatre for presentations.
The Old Mission in Santa Barbara, sometimes known as the "Queen of Missions," is one of the best reasons to come to Santa Barbara in the first place, so you won't want to miss this. It was first built in late 1786, though it wasn't completed until the 1830s, making it the tenth oldest mission in California. The twin bell towers offer a sweeping, breathtaking view of the city. You can also find classic structures such as their reservoir, kiln, and mill, and a gift shop that offers beautiful jewelry.
These are just a few of the terrific museums to find in Santa Barbara. But you can't see them yourself until you start planning your trip. Still looking for a place to stay? Beachside Inn offers beautiful rooms and hospitality directly across from the famous Santa Barbara Harbor. Contact us today for more information or to book your room.