The last thing you want to do on any vacation is to rush. When you make a trip to Santa Barbara, you can take your time exploring the many beaches, but also the local flavor through neighborhoods and towns. Santa Barbara County is made up of three beautiful towns near the beach and a number of breathtaking neighborhoods. Each has something different to offer, so you can find the perfect setting for your vacation. Here are some of our favorite Santa Barbara neighborhoods and towns: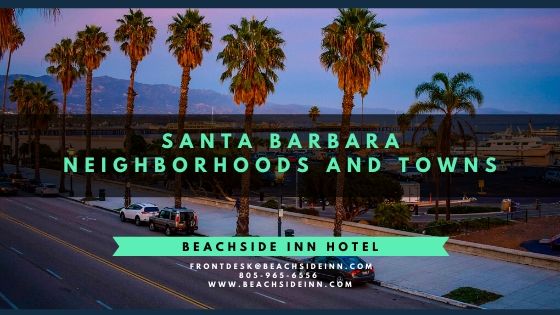 Goleta
Goleta's nickname is "the good land," which should already tell you it's worth a visit. At Goleta Beach, you may catch a glimpse of dolphins or sea lions. Further inland, you can hike beautiful mountain paths and see nature at its finest. But Goleta's not just appealing for its natural scenery. It's conveniently located near the Amtrak train station and the Santa Barbara municipal airport. Three busy shopping centers and an expansive golf club ensure that there's plenty to do here.
Beachwalk
Beachwalk neighborhood is the heart of Santa Barbara. If you're looking for the traditional Santa Barbara experience, strolling to the beaches, looking at the boats in the Santa Barbara Harbor, or a visit to Stearn's Wharf, Beachwalk is a must. But that's not all Beachwalk offers. There's also the Santa Barbara Zoo, home to over 500 animals. For art and culture lovers, check out the Santa Barbara Museum of Natural History. And of course, when you stay at Beachside Inn, all of this is just a short walk away.
Carpinteria
Carpinteria is the perfect community for those looking for a more laid back beach vacation experience. Located close to all the activity of Santa Barbara, Carpinteria has a laid back, small town feel to it. The beaches have wide expanses of sand and renowned surf, with local surf shops nearby for those who want to catch some waves. You'll also find beach campsites here for outdoorsy vacationers.
Funk Zone
Funk Zone might sound like an entertainment business of some kind, but it's actually a thriving business community in Santa Barbara. Here you'll find colorful murals on the walls and plenty of inspiration and community as an artist — or even just an arts lover. Funk Zone is easily walkable, located near the downtown and Beachwalk neighborhoods. It's close to the train station as well as the ocean, which adds to the hip atmosphere of this neighborhood.
These are just a few of the diverse and exciting communities you'll find throughout Santa Barbara County. When you make your trip here, take some time to explore and get to know these communities for yourself. You may find yourself wanting to come back as soon as you can. Contact Beachside Inn today for more information or to book your stay.