Brunch really is the perfect meal. Savory or sweet to suit any taste buds, it's a soft wake-up call and an opportunity to treat yourself with delicious food, good company, and a lovely atmosphere. Even if you don't get brunch regularly in your day-to-day life, you should set aside at least one morning on your vacation to get brunch. There are a number of diverse brunch spots throughout Santa Barbara. Here are some of our favorites: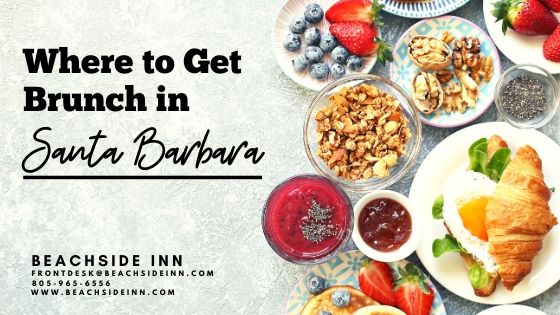 Backyard Bowls
Brunch is a tasty treat, but not all treats have to be indulgent. Backyard Bowls is known for their delicious and healthy breakfasts, giving you just the boost you need to start your day. You can find acai bowls, smoothies, or whole grain bowls. All of the ingredients are as organic and fresh as they are delicious. It's a great choice for eco-conscious brunchers, too, since all of their to-go containers are biodegradable.
The Bella Vista
Located at the Biltmore Four Seasons Resort, you can treat yourself to a truly 5-star brunch at The Bella Vista. Breakfast is served daily, where you can find anything from smoked salmon to a traditional American breakfast or quinoa pancakes. They also serve Saturday and Sunday brunch, both of which run into the afternoon. From the beginning of your brunch, you can order oysters or beef tartar as a starter, as well as a number of popular brunch classics and add-on meats or pastries. For a sweet treat, try the tiramisu or the apple pie cinnamon roll.
The Boathouse
Looking for brunch on the patio overlooking the beach? The Boathouse is the perfect brunch spot for you. With their extended breakfast that runs through 1pm, you won't even have to wake up early for this one. Try the signature breakfast with snow and rock crab cakes under a poached egg or their fluffy buttermilk pancakes. Want something different? Maybe give the quinoa bowl or the chilaquiles a try. All of this deliciousness overlooks Hendry's Beach, a popular dog-friendly beach in Santa Barbara.
Cajun Kitchen
Sometimes what you want is a more laid back brunch atmosphere, full of warm, savory tastes to fill your belly. That's what you can find at Cajun Kitchen. The omelettes at Cajun Kitchen are legendary, from the savory salmon omelette to the spicy Roz's omelette. You won't miss your traditional brunch favorites here — breakfast and gravy, chorizo and eggs, etc. — but you'll also find dishes like Creole jambalaya that can't be found at just any brunch spot. All of this can be found in a warm, cozy setting so you can relax in the morning.
Start the day with a delicious brunch to set the tone for your adventures in Santa Barbara. Still planning your trip? Consider staying at Beachside Inn, with beautiful rooms and hospitable service located just across the street from the famous Santa Barbara Harbor. Contact us today for more information or to book your stay.