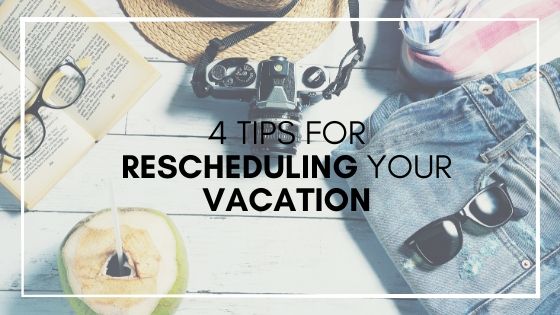 No one likes cancelled or rescheduled plans, especially when it comes to a vacation you've been looking forward to. But sometimes life can throw unexpected curveballs, and you find yourself in need of a change of plans. This is especially true this year with the COVID-19 pandemic and the travel restrictions that followed.
Cancelling, or at least postponing, spring break trips or summer vacations has become a necessity. But now that those travel restrictions are beginning to lift, you have an opportunity to begin planning your vacation again. Here are a few tips:
Get a Refund – If You Can
Vacations are exciting, but there's no question — traveling can be expensive. You have to cover the cost of the flight, the cost of lodging, food, and transportation. Of course, you'll also want something left over on your budget to spend on things that you want. When you buy plane tickets only to cancel the trip, it can be an overwhelming waste.
Fortunately, with the current situation throughout the world, many airlines are offering refunds for cancelled flights. Check to see if you can get a refund before you start to reschedule. It's also a good time to look up cancellation policies.
Call Rather Than Emailing
Instead of emailing to cancel your travel plans, call so that you can talk to a person. If you explain the situation — whether social distancing due to the COVID-19 pandemic or cancelling for a personal reason — you may be able to change the date of your trip or receive a refund. It's always better to talk to a person when it comes to cancelling or rescheduling your trip. Keep in mind that while this might be a frustrating time, you'll get the best results if your interactions with employees are kind and polite.
Look Into Travel Insurance
Travel insurance exists to prevent you from losing any money should you have to cancel or reschedule your vacation. With travel insurance, when you cancel plans, you'll be refunded for everything you put into the trip. You may not have booked travel insurance before your initial trip, but the benefit of rescheduling your vacation is that you can invest in it for future trips. This will save you trouble as well as money when it comes to rescheduling rips in the future.
Check on Cancelled Events
Sometimes your trip is cancelled not because of your personal plans, but because the event you wanted to attend was cancelled. Provided there are no travel restrictions, you can still take the trip and see the sights of the city. You can also wait until the event is rescheduled. Check the official announcement to see if there are plans for the event to be rescheduled later in the year.
The social distancing orders may have put a pause on your Santa Barbara vacation, but it doesn't have to be a full stop. If you're interested in rescheduling your Santa Barbara vacation, contact Beachside Inn today, especially by calling us at 805-965-6556.