If you're visiting Santa Barbara for a weekend or a month, the question isn't whether or not to hit the beach — it's which beach to hit! There are any number of sunny Santa Barbara beaches where you can relax on the sand go for a swim, or even enjoy water sports like surfing or kayaking. Why stop at just one beach during your stay in town? Here are some of the best beaches you'll find in Santa Barbara, including those conveniently located near Beachside Inn!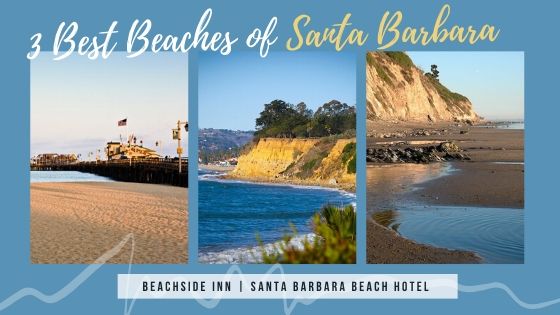 West Beach
One element that can be a pain when visiting the beach is trying to find a place to park. Fortunately, West Beach is located right next to Santa Barbara Harbor with a parking lot mere steps from the beach, and parking is available at the nearby Stearns Wharf Pier, as well. And the beach itself has something for everyone. Traveling with family? Check out the wading pool with your kids! Looking for some fun with friends? Volleyball on the beach is there for some friendly competition, as well as opportunities for boating and kayaking. This long stretch of shore lends itself well to sunbathing, when the beautiful blue water isn't calling to you.
Butterfly Beach
Not far away is Butterfly Beach, beloved by locals as well as visitors. Butterfly Beach is another west-facing beach, and what it lacks in amenities it makes up for in natural charm and stunning views. There's a rock wall along the upper section of the beach where you can watch the sun set or simply get a more expansive view of the beach, but the warm white sand is also perfect for a leisurely stroll or a chance to sunbathe. There are great bars nearby, as well as the Coral Casino looming over the serene scene.
Arroyo Burro Beach
The official name of the beach is Arroyo Burro, but locals call it Hendry's Beach as the nearby land was once owned by a family of Scottish immigrant farmers — with twelve children! — named the Hendry's. Today, this beach is a great place to bring not only the whole family but your favorite furry friend. Because of the flat nature of the beach and its popularity, you're likely to see several dogs here, all happily playing fetch or splashing in the lapping waves with their owners. There's even a self-serve dog washing station in the parking lot so you don't have to worry about muddy footprints all over your car on the way back.
Looking for the perfect place to stay during your beach vacation in Santa Barbara? Beachside Inn is conveniently located along the west coast, right across from the famous Santa Barbara Harbor, with easy access to West Beach. We have terrific amenities and stylish rooms, as well as a helpful staff happy to direct you to even more of the beautiful beaches you can find in Santa Barbara. Contact us today to book your stay.