With beautiful natural scenery, a long coastline, and the towering Santa Ynez Mountains, it's unsurprising that many incoming college students want to attend school in Santa Barbara. Another draw that brings students from all over the country — and even the world — is the vast amount of colleges to choose from in this area. From four year universities with sprawling campuses to two-year community colleges, Santa Barbara is bound to have a choice that's perfect for you.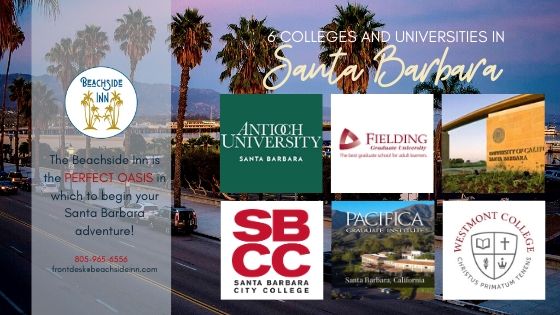 This private university has been in Santa Barbara for over 40 years and is an excellent choice for students interested in earning a bachelor's degree. They offer a variety of areas of focus including creative writing, education, business, and psychology. They also have classes online so you can go at your own pace with your own schedule if need be.
Though the main campus is in Oakland, the University of California has campuses all over the state, including Santa Barbara. This four year university offers hundreds of undergraduate majors to choose from, and their engineering school is renowned as one of the top engineering schools in the world. They're also well known for the research at this campus.
Pursuing an ambitious professional career? You may need more than simply a bachelor's degree. Fielding Graduate University offers a number of doctors and masters programs to further your education and to help you have a competitive edge when you enter the job market. A small, non-profit school, you'll be able to get the attention you need from professors and will have a great chance to meet friends in your classes.
Pacifica Graduate Institute includes two local campuses to choose from, so each campus has a quiet and relaxed atmosphere. They offer doctors and masters programs in psychology, counseling, humanities, and mythological studies. You can enroll in any season aside from summer, so if you decide to get a masters degree in winter, you won't have to wait until fall.
Not everyone is after a four year degree. For some careers, only an associates degree is needed. City college is a great way to save time and money if you don't need the full university experience, and it's an excellent option for adults who simply want to take a few classes to further their knowledge.
This four year liberal arts college is local to Santa Barbara and has as many as 26 bachelors of science degree programs to choose from, in addition to 12 pre-professional programs. For those who long to have a chance to study abroad, Westmont College also has a great Global Education program.
Before enrolling in any college or university, you'll want to first check out the campus for yourself. It helps to have accommodations with easy access to the beach and beautiful waterfront views to give you a taste of life in Santa Barbara. That's what we offer at Beachside Inn. Contact us today to book your stay.