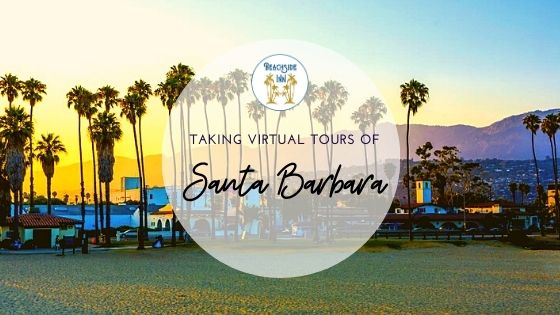 Well into August, most of the country is still social distancing and quarantining to slow the curve of COVID-19. This has thrown a wrench in the vacation plans of many and made the summer a slow one, to say the least. But if you're unable to physically visit Santa Barbara, you can still feel as though you're here with a virtual tour. The internet has never been more connective than it is now, and the right virtual tours will help give you the atmosphere of a vacation until you can join us again.
Here are a few of our favorite virtual tours:
Under the Sea at Kelp Forest
Just 25 miles from Santa Barbara is Anacapa Island, a popular spot for scuba divers who want to explore colorful under sea life. Your scuba gear may still be packed away this year, but you can still explore a lush kelp forest and the variety of underwater life that feeds on that kelp through this virtual tour. Web cam footage provided by the National Park Service streams the kelp forest 24/7, and the hits have been going up in this time of social distancing and the need for an escape.
The Santa Barbara Zoo
In the midst of quarantine, many zoos have been coming through for us with adorable animal videos, and The Santa Barbara Zoo has been one of the best. Not able to walk through the zoo and see your favorite animals in front of you? With a simple visit to the Santa Barbara Zoo's Facebook page, you can find videos of otters holding hands, turtles having their shells massaged, and Monty the penguin. They have educational videos as well as cute videos, so you can learn all about barn owls and invertebrates while you get your cute fix.
University of California, Santa Barbara
On the other hand, maybe the visit you'd hoped to make to Santa Barbara was less for leisure and more for deciding your future. If you're college bound, summer is a great time to start visiting campuses of schools that you're interested in. However, during the pandemic, many colleges have suggested taking a virtual tour instead of visiting in-person. University of California, Santa Barbara offers guided virtual tours, student panels, and webinars to help you get a sense of the school from your home. You can even find a UCSB counselor who can help you plan your virtual tour.
These are just a few virtual tours of Santa Barbara that are available if you're unable to visit in person. You can even enjoy a soothing walking cam tour of Santa Barbara Harbor, right across the street from our location. At Beachside Inn, we look forward to seeing you in person once you're able to travel comfortably and responsibly. Until then, feel free to contact us for suggestions of virtual tours or to start planning your next trip. Contact Beachside Inn today for more information.