Every summer, people fly in from all over to visit Santa Barbara's beautiful beaches and classic Spanish Revival architecture. But Santa Barbara isn't just for summer! You can visit year round, and in fact, some feel that wintersan is the best and most beautiful time to visit this coastal California city. Want to beat the cold this winter? Planning a trip to Santa Barbara later in the year? Here are a few of the benefits and things to keep in mind!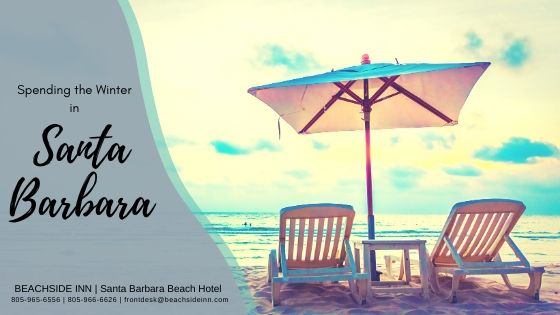 Clear Skies and Beautiful Weather
While other parts of the country may be laden with snow or frost, you won't find that here in Santa Barbara. Throughout even the coldest months, the average temperature highs remain in the high 60s, while lows only dip into the high 40s. On average, January and February both have about 5 rainy days per month, but for the most part, the skies are a clear bright blue throughout the winter. A light jacket and a good pair of jeans may be all you need to stay comfortable even in the coldest parts of winter here.
Fewer Crowds
One benefit you can always count on when you visit Santa Barbara in the winter is that there will be far fewer crowds than in the summer. It may be easier to book reservations with your favorite restaurants — or to book your stay at your favorite inn! Lines at the museum may be less long, and the beach will be less crowded. That's not to say that Santa Barbara will be empty, in winter! With a permanent population of over 92,000 and visitors who know the charm of coming to Santa Barbara during winter, there's sure to be plenty of opportunity to socialize, but you may be less inundated with crowds than at other times of year, and may be able to find off-season discounts.
What to Do In Santa Barbara In Winter
So you're planning to spend some time in Santa Barbara this winter. The next question is where to start. There's no end of things you can do while visiting Santa Barbara in the winter, but here are some of our favorite suggestions:
Bell Tower View. On a clear winter day, go to the Spanish Revival Santa Barbara County Courthouse and take the elevators or stairs up to the bell tower. There you'll find an observation deck that gives you a sweeping 360 degree view of the city.
Check Out a Parade. Coming into Santa Barbara for the holidays? The annual Christmas parade is Santa Barbara's only nighttime parade and brings in over 65,000 viewers every year. There's also the St. Patrick's Day Parade in Ventura if you plan to visit on the other end of the season.
Go Surfing. Santa Barbara beaches are known to have bigger, more thrilling waves in winter, so this is a perfect time of year to hit the surf. Check out Ledbetter Beach or Santa Claus Beach to start.
Interested in staying in Santa Barbara this winter? Contact Beachside Inn today to book your stay. We're directly across from Santa Barbara Harbor, with beautiful rooms and convenient amenities to make your trip both relaxing and convenient.