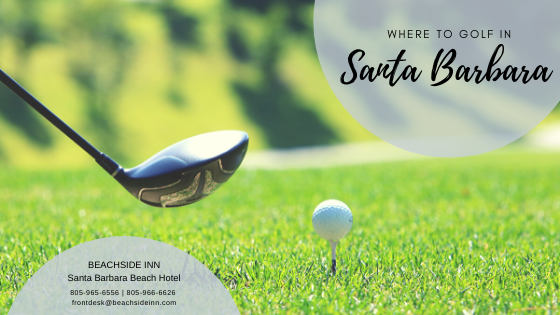 Santa Barbara might be known for its beautiful beaches, and that's certainly a feature that we love here at Beachside Inn! But that's not all Santa Barbara has to offer. From historic missions to exciting museums and exhilarating hiking trails, Santa Barbara has something for everyone. And if you're a golf enthusiast, Santa Barbara might just be the perfect place to plan your next golf vacation!
With lovely weather year round, golfing is a popular sport in Santa Barbara, and the golf courses here go above and beyond when it comes to beautiful greens. Many golf courses in Santa Barbara are within close driving distance, so you can check several out while you're here. Here are our favorite places to golf in Santa Barbara:
Glen Annie Golf Club
Located in the foothills of Santa Barbara, the Glen Annie Golf Club golf course plays through lakes and waterfalls as well as a mountain-front view. From one point, you can even catch ocean views, so Glen Annie truly has it all! Want some refreshments while you golf? The beverage cart offers craft beer options, and the Frog Bar & Grill is a great spot to take a break when you've finished the course.
Rancho San Marcos
Marked by oak trees that have stood for centuries and the backdrop of the Santa Ynez Mountains, the Rancho San Marcos golf course is not just a great place to play golf: it's a breathtaking view. Rancho San Marcos is an 18-hole golf course over a varied landscape — from green grass to ravines to hills and bunkers. It's a more challenging landscape than Glen Annie Golf Club golf course for those who like a hard earned win. It was designed by Robert Trent Jones, Jr., a renowned golf course designer.
Sandpiper Golf Club
Sandpiper Golf Club's golf course isn't just popular throughout Santa Barbara. It's even been named as one of the top 25 public golf courses in the country by Golf Digest! This is another golf course that will challenge and delight golf enthusiasts, though there's something for golfers of all skill levels. The view's not bad either: rolling hills, vibrant greens, cliffs and a sweeping seaside view really makes the trip, even if you don't make par.
Santa Barbara Golf Club
The Santa Barbara Golf Club golf course is shorter than the others, but no less fun. It's also the most affordable option in case you need to budget carefully or you want to put some of the money you might have spent on golf elsewhere. You can play any day, with tee times posted a week in advance. If you have friends in the area, let them know — Santa Barbara Golf Club even offers a discount for residents!
Still planning your Santa Barbara vacation and looking for a place to stay? Look no further than Beachside Inn! We have 69 newly renovated guest rooms and a perfect location — directly across from the Santa Barbara Harbor. Contact us today to book your stay.