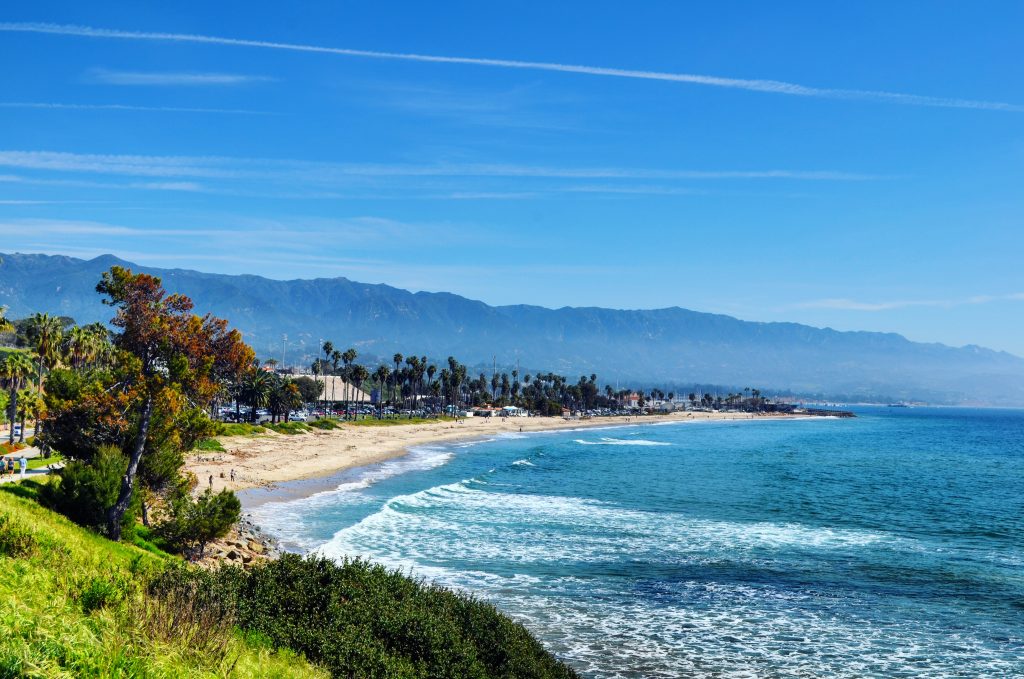 ARROYO BURRO BEACH
Visitors and dog lovers jump for joy over Arroyo Burro Beach, better known to locals as Hendry's Beach, and one of our favourite beaches in Santa Barbara. Load up your pooch and head to this flat, dog-friendly spot for a game of fetch along the coastline. Hungry after a day of beach play? Make time to grab a seaside meal at Boathouse, a local and visitor favorite.
It's the perfect place to meet for breakfast or a cocktail at sunset, stroll or jog the sandy shore, watch for whales, surf fish, or ride the wild surf. Known for its sandy beaches, swimming, surfing and surf fishing, this park also offers a cool grassy area for picnics and playing. The MTD bus stops at the park entrance.
BUTTERFLY BEACH
One of the most charming beaches in Santa Barbara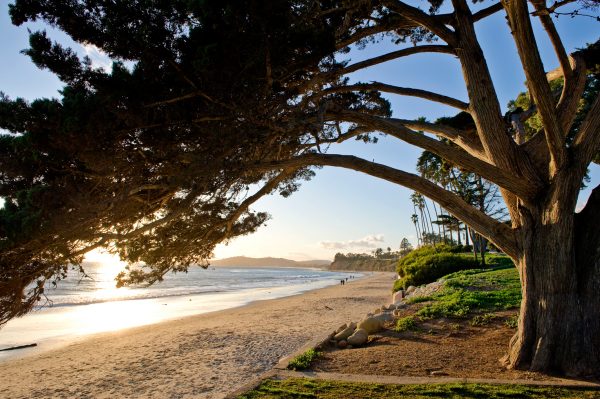 This is a popular beach with Santa Barbara area locals, many who walk their dogs at the water's edge. Ranked in our top 3 beaches. If you're lucky, you might spot a famous celeb. Sunbathe at Butterfly Beach while you catch up on your favorite novel.
We recommend to stay late. Located in Montecito, Butterfly Beach faces west, making it a great place to watch the sunset. The beach has been eroded here so the sandy part is thin sometimes especially at high tide and after winter storms.
EAST BEACH
Adventure-seeking visitors can enjoy a competitive game of volleyball at the numerous courts available along East Beach. If two wheels is more your style, rent a bike at Wheel Fun Rentals and cruise along Cabrillo Blvd., complete with cool coastal breezes.
Ranked in our top 3 beaches, East Beach is located along the waterfront east of State Street and the Stearns Wharf Pier area. Most of the activity at East Beach happens at the east end where the beach is widest. At this end there are many sand volleyball courts, a grass park with picnic tables, an arts pavilion (Cabrillo Pavilion Arts Center), and a restaurant (East Beach Grill). Across the street from East Beach is a paved bike path that goes all the way west to UCSB and east to Butterfly Beach.
GOLETA BEACH PARK
One of the best beaches in Santa Barbara
Make the most of your beach time with a visit to this "Good Land" beach. Ranked in our top 3 beaches. Goleta Beach Park is a county run facility on a sand spit next to the University of California Santa Barbara campus, the Santa Barbara Airport, and the city of Goleta. The paved bike path that runs right behind the park goes all the way to Santa Barbara and beyond making this a great spot to park and begin a ride. There are walking trails on the bluff top west of Goleta Beach Park which lead to the UCSB Lagoon and Campus Point Beach. The 1500-feet long fishing pier is a long walk in itself with views back toward the mountains. There is a boat launch here for launching boats right onto the bay. Kayakers and stand-up paddleboarders put in here as well and there are rentals on site.
LEADBETTER BEACH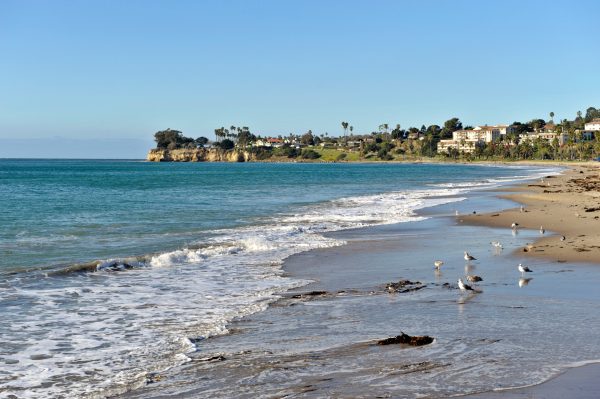 Near the Beachside Inn, the Santa Barbara Harbor and the breakwater, Leadbetter Beach is a popular location for surfing, boogie boarding and stand-up paddle boarding.
Leadbetter Beach is one of the locals beaches in Santa Barbara located just west of the harbor. It's right across the street from Santa Barbara City College so expect to see students here on sunny days. It's an excellent wide sandy beach that is perfect for sunbathing. With the right conditions, it gets breezy so windsurfing, kiteboarding, kite flying, sailing, and even beginner surfing all take place here.
SUMMERLAND BEACH
For those wanting a relaxing, laid-back beach day, escape to Summerland Beach. Sit back and simply enjoy the surrounding beauty at this low-key location.
A lovely beach just 10 minutes or so south of Santa Barbara with wide shores and an easy, shallow ocean entrance. Usually not too crowded, Summerland Beach is located just below Lookout Park. There's a great picnic spot, playground and showers right up top by the free parking, but you should bring your beach umbrella because there's not a lot of shade on the shore. When you've rinsed all the sand off, head into Summerland town proper (it's so cute) for a bite and some shopping. Antique stores and boutiques line the main avenue just a few blocks from the beach.
Not only is Summerland Beach dog-friendly, but horse-friendly too. Book a sunset horseback riding tour with Los Padres Outfitters for an unbeatable experience touring the beaches and backgrounds of Summerland.
REFUGIO STATE BEACH
When visiting Refugio State Beach, be prepared for breathtaking views as far as the eye can see. This palm-tree lined paradise is just a quick 20 miles west of Santa Barbara, and worth every mile.
Campers at Refugio Beach enjoy palm trees swaying in the ocean breeze, protected cove waters, guided kayak tours, and warm sandy beaches in Santa Barbara. A bike trail leads south along the coast.
THE BEST BEACHES IN SANTA BARBARA FOR SURFING, KAYAKING, HORSEBACK RIDING, PADDLE SURFING, SWIMMING, SAILING OR JUST TO ENJOY A BREATHTAKING SUNSET.