From easy family-friendly hikes through sycamore-studded canyons to challenging summit climbs, Santa Barbara is a hiker's paradise. 
There's 3 famous peaks in Santa Barbara: Arlington Peak, Cathedral and La Cumbre. It's a challenging trail. Many hikers come to Santa Barbara to conquer that summits: all 3 peaks. It's called "Three peak loop". 
Season: Spring, Summer, Fall, Winter
This hikes are definitely an attraction of Santa Barbara: 

Photo by: @harrishikers
Arlington Peak: elevation 
3258 
ft
 / 993 m
Arlington Peak is located to the southeast of Cathedral Peak and to the south of La Cumbre Peak in the Santa Ynez Mountains of Los Padres National Forest, California. It is visible and distinguishable from miles away. Its pyramidal shape, its rocky south face and its steep east ridge make this mountain stand out amongst the background hillsides. Climbing Arlington Peak is not just another hike up a dirt trail. You are following a ridgeline that is open and scenic. You find yourself scrambling on, over and around rocks and boulders. The views from the top are truly breathtaking. Since this mountain sits in front of the main Santa Ynez ridgeline, the summit views are much greater in perspective. You get an uninterrupted views of the California coastline in both direction, southeast and west. The views of Santa Barbara Channel Islands against the blue Pacific Ocean are amazing. Closer up, you get the best view of Mission Ridge and Tunnel Trail and how exactly it snakes its way all the way up to Camino Cielo Road and La Cumbre Peak. 
Cathedral:
 elevation 
3333 
ft
 / 1016 m
Cathedral Peak is one of the most challenging, yet rewarding hikes in Santa Barbara. This strenuous four-mile round trip hike gains 2,350 feet in elevation and is not suitable for children or anyone with agility issues. Access to the trailhead is from Tunnel Road, about three quarters of a mile beyond the locked gate. Follow the Jesusita Trail until it descends into Mission Canyon. 
After continuing upstream, an opening in a wall reveals the steep and narrow hiking trail to Cathedral Peak, which requires climbing over boulders and weaving through thick chaparral. Along the way, you can see beautiful views of Seven Falls. The approach to Cathedral Peak, one of the Mission Crags, is steep and requires sure footing, but once at the top, the views are spectacular. From here, you can peer right over Santa Barbara to the sea.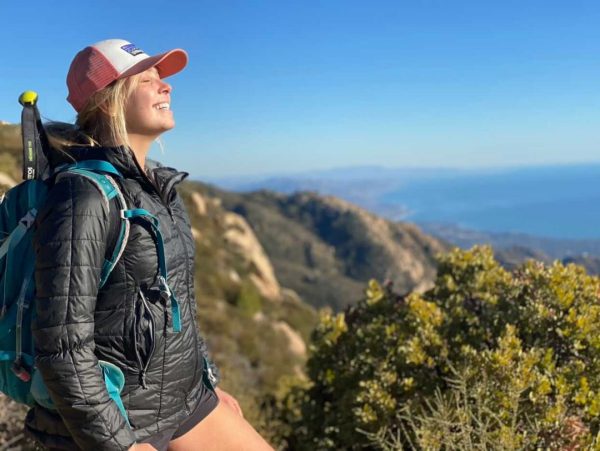 Photo by: @harrishikers
For more of a workout, you can cont
inue to La 
Cumbre
 Peak: 
elevation 
3985 
ft
 / 1215 m
Beautiful day hike to highest peak in Santa Barbara with a massive waterfall near the top. 
Tunnel Trail is a great way to get to the top of La Cumbre Peak. You get to the trail head by taking Tunnel Road until it dead ends at a large water tower, there you can park your car and start on foot. You take spyglass ridge road up which is a paved fire road until it becomes dirt when you get onto tunnel trail. About three and a half miles after turning into tunnel trail you will find a massive waterfall which, after a good rain is flowing nicely. Continue past and you get to East Cielo road and it's just a short distance to the peak from there. At the peak you will find an outhouse along with a table for lunch. The hike offers 
Continue past and you get to East Cielo road and it's just a short distance to the peak from there. The hike offers views back down into Santa Barbara the whole time and once at the top you can see out east as well.