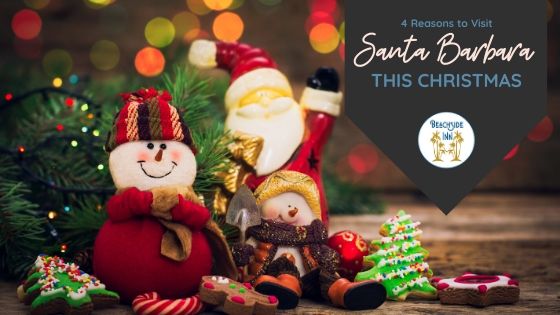 Where do you like to spend your holiday season? Some might to wake up and see sheets of snow all around them; to others, however, snow also means cold, poor roads, and grey skies. If you're looking for something different, consider visiting Santa Barbara this holiday season. Beautiful Santa Barbara with its bustle of activity and warm weather provides a perfect alternative to the white, wintery Christmas.
Santa Barbara Weather
Even in December, high temperatures in Santa Barbara average at about 65°, while low temperatures are typically in the 40s. Weather is still mostly dry, with only a couple days of rain. A light sweater and a good pair of jeans should be all you need to comfortably explore the city while you're here for the holidays. No need to bundle up — though you can still find plenty of places to serve hot cocoa. This is a great destination for those who like to move around and see the sights during the holidays.
Christmas on the Beach
For those who live on the West Coast, Christmas on the beach is perfectly normal and maybe even preferable. You can enjoy mimosas and a Christmas brunch picnic on the beach surrounded by your loved ones or hit the surf with long distance family and friends on Christmas Eve. Soon you'll find that Christmas on the sand is just as picturesque, if not moreso, than a white Christmas at home.
Last Minute Shopping
Still have some Christmas shopping you want to do? Want to pick something up for loved ones back home? You can find unique shopping centers in Santa Barbara like La Arcada, a shopping square filled with art, classic Spanish architecture, and charming local shops. There's also the Paseo Nuevo Mall, where you can find not only shops but dining experiences and a movie theater to make the day of it. Enjoy open air shopping? Check out La Cumbre Plaza.
Granada Theatre
For some, seeing a live Christmas themed show is just part of the Christmas tradition, and you don't have to give that up in Santa Barbara. Here you can see "The Nutcracker" every year at the beautifully restored historic Granada Theatre. The theatre itself has been around since 1924, and while it was revitalized in 2008, many of the original touches remain. For instance, you can still see the original chandelier, now in a place of honor in this theatre.
Of course, so much of your experience anywhere you spend the holidays depends on where you choose to stay. Beachside Inn is the perfect location for those who want to spend Christmas on the beach. From our comfortable rooms, you can see sweeping views of the coast and the inn itself has convenient access to the beach. All this along with our many amenities and special offers. Want to see for yourself? Contact Beachside Inn today to book your stay.