Santa Barbara is known for its sunny weather and beautiful beaches, but there's more beauty to find here than just the beaches. In fact, you can find a number of fascinating historic landmarks throughout the city. Classic Spanish architecture is still prevalent throughout, and you'll find that in historic buildings that are still used today. You can also find performing arts venues with long histories here. Want to go on a tour of Santa Barbara's most beloved landmarks? Here are some of our favorites: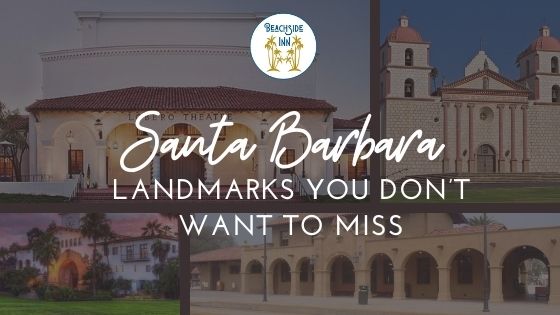 Santa Barbara County Courthouse
If you want to find a landmark that truly looks like a classic Spanish Revival villa, you can find it in the Santa Barbara County Courthouse, which is still the operating county courthouse to this day. It was designed and built in 1929, replacing a courthouse in the Greek revival style that was damaged in a 1925 earthquake. Take the elevator to the top of the 85 foot clock tower, "El Mirador," where you can take beautiful pictures of the sweeping landscape. Look out for classic arches and inscriptions, like the one above the main entrance that translates to: "God gave us the fields. Human art built cities."
The Old Mission
The Old Mission is the most popular landmark in Santa Barbara — and for good reason. Built by Franciscan monks in 1786, the stone structure has stood for literal centuries. There's still an active church congregation that meets at the Old Mission, as well as a museum, cemetery, and mausoleum. There's even a rose garden across the street that's just as popular. If you love travel photography, you won't want to go home before you get a picture of the Old Mission.
Santa Barbara Railway Station
Rarely is an Amtrak station something to look at, but if you came to Santa Barbara by train, there's a chance you've already seen one of our landmarks. Built in 1902 as the South Pacific Railway Station, this again has that classic Spanish Revival style in its arches and red tiled roofs. However, it was renovated as recently as 2000, so it's kept in good shape. It still actively serves two Amtrak trains today.
The Lobero Theatre
Built in 1873 as an opera house, the Lobero Theatre is more than just historic to Santa Barbara. It's the oldest, continuously operating theatre in California. Here you'll find the classic red seats, high ceilings, and red curtain that speaks to everything you could want from a classic night at the theatre. The combination of stucco and tile and stately pillars of the theatre's exterior are also a sight to behold.
Excited to check out these landmarks and more in Santa Barbara? Trust Beachside Inn for your place to stay, located just across the street from the stunning Santa Barbara Harbor. Contact us today for more information or to book your stay.