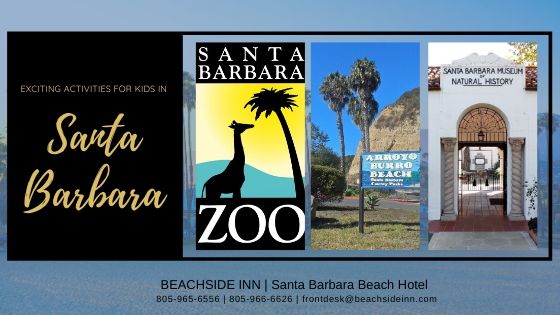 Planning a family trip to Santa Barbara? As a parent, you probably know how crucial it is to keep your kids entertained and interested in what's happening so you can prevent a meltdown. Besides, obviously you want the vacation to be fun for everyone! Fortunately, there's little chance of your kids getting bored in Santa Barbara. From trips to the beach, exciting museums, and everything in between, your kids are sure to have their interests piqued and they might even learn something to take home.
Strolling through special exhibits and stunning finds from archaeologists, biologists, and paleontologists is sure to be interesting for the adult members of your family, but the Santa Barbara Museum of Natural History has wonders to widen your child's eyes as well. Kids like something interactive, rather than just something to look at from afar. For this, there's the Curiosity Lab, where you can look at tiny, typically unseen organisms through a microscope, or the Bee Cell, where you can walk through a massive hive. Make sure to get a picture with Chad, the 73-foot skeleton of a blue whale before you leave!
Most kids love a trip to the Zoo, and the Santa Barbara Zoo won't disappoint. Surrounded by ocean and mountains, the real wonder of this zoo is the 500+ animals who live here! Check out lions, tigers, and bears (oh, my!), as well as flamingos or even endangered species like the California Condor. This is a smaller zoo, easy to access,  and laid back so there's less worry about anyone getting overstimulated in a crowd. And you don't have to feel guilty about oohing and ahhing at the animals you find at this zoo. The Santa Barbara Zoo is careful to stay involved in the Species Survival Plans conservation program.
The Beach
It's nigh impossible to make a trip to Santa Barbara and not go to the beach, but if you have kids, they're going to be begging to go. Arroyo Burro Beach or Butterfly Beach are both great beaches for kids — you may even find some dogs running around Arroyo Burro Beach. These offer shallow water swimming experiences as well as beautiful sand and surf. Want to go kayaking or paddle boarding with the family? Stop by a shop like Paddle Sports Center. If you have older kids, maybe you can all learn to surf through the Santa Barbara Surf School.
Santa Barbara can be a delightful place to visit with your kids, and a memorable vacation for the whole family. If you know the family friendly spots to check out, you may find your kids begging you to take them back to Santa Barbara next year. Still looking for a place to stay while you're here? Kids will be delighted by the views of the famous Santa Barbara Harbor across the street from Beachside Inn, and parents will love the comfortable rooms and great hospitality. Contact us today for more information or to book your stay.