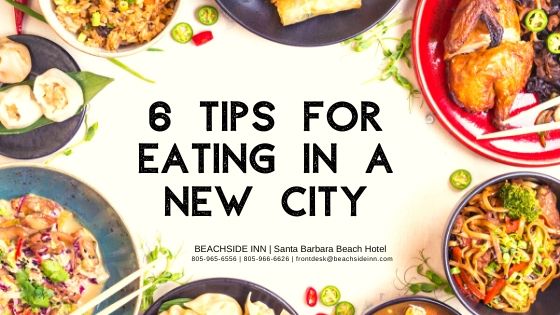 Vacations and gastronomical adventures go hand-in-hand. Part of it is necessity. Obviously you have to eat! But being in a new city offers you an opportunity to try new flavors and tastes that you might not try at home. It's a chance to get to know the city where you're staying not just by sight, sound, touch, and smell, but taste. Want to make sure you're getting the most out of your eating experience in Santa Barbara? Here are our tips for eating in a new city:
Research First
If you don't want to waste hours of your vacation trying to decide where to eat, do some light googling before you leave. Think about the kind of food you like to eat: tacos, pasta, a bright and flavorful salad, a juicy burger. Do you prefer to go vegetarian or have any dietary restrictions? Take some time to look into, say, "best pizza places in Santa Barbara" or "best five star restaurants in Santa Barbara." That way you can see not just what the restaurant has to say, but what the customers have said. You can also see whether you need to make reservations ahead of time.
Ask Locals
There are plenty of restaurants in Santa Barbara that are swarming with tourists — and that's fine. After all, as a visitor of Santa Barbara, you're a tourist yourself, and those restaurants are probably busy for a reason. But if you want a more authentic experience, ask a local for recommendations of where to eat. You may find a good hole in the wall spot like Lilly's Taqueria or a local establishment like Arnoldi's Cafe.
Go Local
Speaking of local — try to eat at local restaurants as much as you can. You can find your favorite chain restaurant almost anywhere you go, but it won't be the most exciting vacation experience. Instead, think of what you like about your favorite chain. If it's warm bowls of pasta, maybe Trattoria Vittoria is the place to go. If you like to order pizza, check out Patxi's Pies or Rusty's Pizza. Do you like to get fresh ingredient burritos for lunch? Try Su Casa Fresh Mexican Grill.
Eat Outside Your Comfort Zone
You're only in Santa Barbara for a limited time. Now is the best chance to try something new. That might mean going to a fancier restaurant when usually you might eat casually or going somewhere with a beach view when typically you live in a landlocked area. But don't be afraid to go bolder. Try a genre of food that you're typically afraid to try, or something you feel you haven't given a fair shot. After all, in a new city, it's all new to you.
Try Street Food
Not all your eating experiences in Santa Barbara have to be sit down dining experiences. Make sure to try some street food while you're on the go to truly get a taste of the city. There are great food trucks here, like Broad Street Oyster Company, Blue Corn Tacos, or Lucca Truck. Gloria's Gourmet Kitchen is another beloved food truck in town.
Leave Reviews
If you like the restaurants where you eat during your trip, make sure to leave reviews! This will help the next visitors doing their research on where to eat in Santa Barbara, and then the cycle starts all over again.
When your belly is full from all those good eats in Santa Barbara, relax in your luxurious rooms at Beachside Inn. Still need to book your stay? Contact Beachside Inn today for more information!